Implant Bridges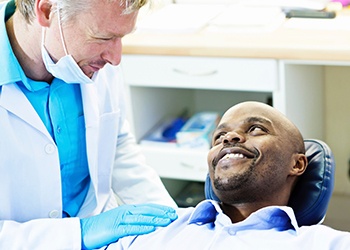 Replacing missing teeth used to mean only restoring those parts of the smile visible above the gum line, but the skilled specialist and team at Adirondack Periodontics can use dental implant posts to replace lost teeth from the roots up. Fixed bridges have been used for years to replace one or several consecutive teeth, but traditional bridges use surrounding teeth to provide support for the prosthetic tooth or teeth. Dental crowns are placed over the top of healthy teeth, which requires us to remove healthy tooth structure. Implant supported fixed bridges allow us to replace several consecutive teeth without adversely impacting surrounding dental structures. If you want to find out more about dental implants, fixed bridges, and all of your restoration options, call to schedule a tooth replacement consultation in our Plattsburgh periodontal practice today.
Why is it Important to Replace Missing Teeth?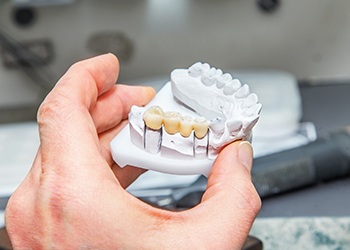 When missing teeth are left unreplaced, the rest of the smile can shift to fill in the gaps left by teeth, leading to orthodontic issues that require advanced treatment. Following tooth loss, surrounding teeth absorb the entire pressure of the bite during chewing. This additional pressure can increase the risk for dental chips and cracks. Over time, the loss of stimulation from the tooth's roots causes diminished jawbone density and gum tissue volume that may lead to further tooth loss. By replacing missing teeth, you ensure the ongoing health and function of your smile.
Traditional Fixed Bridge Restoration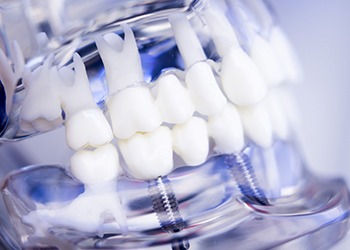 Traditional fixed bridges were used to replace a single tooth or a few consecutive missing teeth. The replacement teeth were attached to crowns on both sides that then affix to the surrounding healthy teeth.
The Implant Placement Process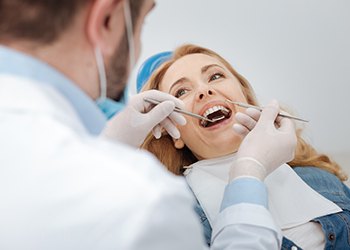 Dental implant supported fixed bridges are used to replace two or more consecutive missing teeth. A row of replacement teeth are fused together. Then, the bridge is affixed to two implant posts, one at each end. These implant-retained bridges seamlessly mimic your smile's natural, healthy form and function.
Implant-Retained VS Traditional Bridges
Before you begin a tooth replacement plan, we recommend taking the time to review all of your restoration options. If you're trying to decide between a traditional and implant supported bridge, keep the following factors in mind:
Traditional bridges require the removal of healthy tooth structure in order to place dental crowns over surrounding teeth to support the replacement tooth or teeth. Fixed bridges are completely self-supported, and they function like healthy, natural teeth.
Traditional bridges only restore the visible parts of teeth, but implant bridges replace the roots and crowns. This means patients' gum and bone tissue receive adequate stimulation to maintain soft tissue volume and jawbone density to ensure the optimal level of oral health.
Traditional bridges are less expensive to place, and the restoration is completed more quickly. However, they need to be replaced every five to ten years compared with implant bridges that can last for two decades or longer with proper care.